Boston Strategies International's President Mr. David Jacoby Shared BSI's Analysis of the Solar PV Market at the SNEC Conference in Shanghai, China on April 17-21, 2017.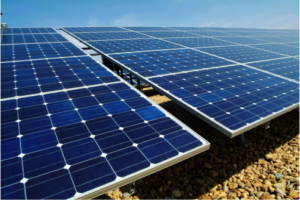 The SNEC Scientific Conference provided an excellent platform for the world's PV experts and scientists to showcase and share the latest developments in solar energy technologies.
The conference programme encompassed a wide scope of PV technologies, ranging from silicon feedstock, PV materials, cells, modules, systems and quality assurance to smart grid technologies. The world's top PV scientists along with CTOs from leading PV companies have been invited to join the International Scientific Committee as well as presenting on the cutting-edge technologies of solar energy at the conference.
Boston Strategies International's President Mr. David Jacoby's presentation on "Market Outlook for Solar PV" provided detailed insights about the long-term demand growth outlook for Solar PV and the world's solar markets.
In his presentation Mr. Jacoby emphasized that cumulative global market for solar PV expected to triple by 2020 to almost 700 gigawatts, with annual demand eclipsing 100 gigawatts in 2019. According to the analysis, the bulk of the growth will occur in a small number of markets. While 8 countries might each add over 10 GW, 4 markets – China, US, Indian and Japan – are supposed to add over 20 GW, and China could exceed the 100 GW level in the High Scenario.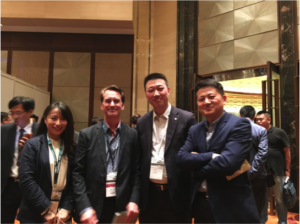 David also emphasised that Solar power as the lowest-cost renewable energy can provide enough clean power generation in time to meet the ambitious Paris Climate Summit targets. Utility-scale systems and rooftop systems will each have roughly half of the global market.
Rooftop systems are currently more expensive but the value of electricity delivered on consumption sites or nearby is greater.
However, as PV expansion is driven more and more by self consumption – the use of PV electricity directly at the same site where it is generated – grids may carry smaller amounts of traded electricity, raising concerns over how to recover the fixed costs of grids.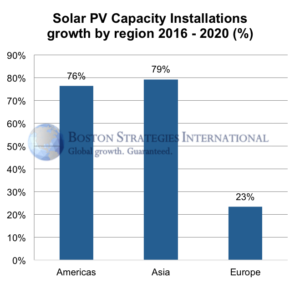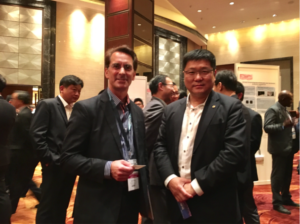 Mr. Jacoby explained how the global market for solar PV will no longer be Europe-centric and large solar markets in Asia are booming. China and Japan are leading the growth curve for the solar PV market and energy storage solutions will unleash latent growth in Latin America, Middle East and India.
He also discussed about the increasing rates of penetration for rooftop solar. According to BSI's research, since the demand growth is coming mainly from emerging markets where utility-scale PV is currently the preferred application, this solar segment will continue its lead over the next 5 years.
He summed up by forecasting that energy storage solutions and emerging market potential promise long-term profitability for the industry.
To access David's full SNEC 2017 presentation "Market Outlook for Solar PV" with detailed charts and analysis kindly buy it using this link.