Advising Investors and Policy-Makers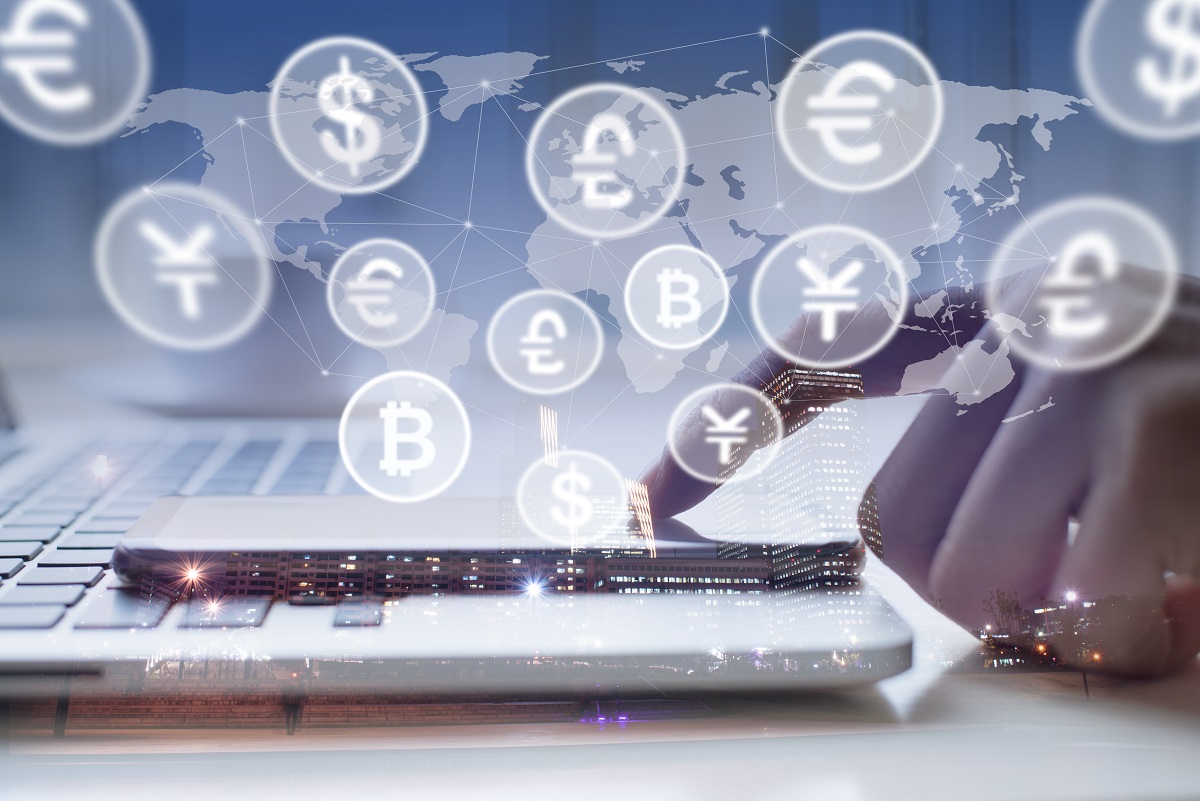 REGULATORY AGENCIES AROUND THE WORLD
SUPPLY CHAIN ECONOMIC IMPACT ANALYSIS
A specialized type of economic impact analysis that quantifies the benefit from policy scenarios affecting the energy industry, such as local content programs and public-private partnerships.
FISCAL POLICY ANALYSIS
Assessment of various tax and subsidy policies on industry growth, domestic investment, foreign direct investment, and employment.
Examples of My Supply Chain Analysis in Public Policy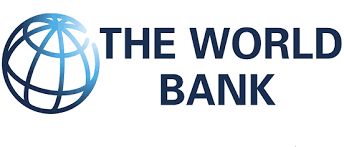 WORLD BANK
Evaluated the financial performance of public enterprises in various African countries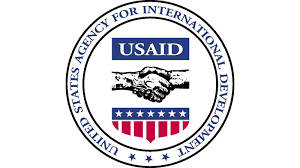 USAID
Assessed the relative success of privatization programs in Africa and the related institutional, regulatory and legislative frameworks.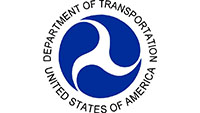 US DOT
Analyzed competitiveness and efficiency of rail, truck, and ocean freight in the US. Identified bottlenecks. Developed new frameworks for quantifying the value of SCM using economic multipliers.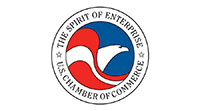 US CHAMBER OF COMMERCE
Developed international comparisons between infrastructure capacity and long-term economic productivity, growth and competitiveness. Analyzed linkages between congestion, capacity, logistics cost, and logistics competitiveness in countries worldwide.

NCHRP
determined targets and processes for allocating resources in "performance-based resource allocation." Benchmarked public and private sector KPIs and performance management systems.

US HIGHWAY RESEARCH PROGRAM
Developed a method for quantifying national, local, and regional economic impact of major investment programs, including the supply chain impact of six types of transportation investments.

NEW YORK CITY
Modeled supply chain implications for centralized warehousing of supplies.

INECC
Compare costs and value-added of large scale solar, wind and geothermal, and
combined-cycle natural gas power generation technologies.
"David is an expert who never stops learning and a consummate professional who focuses on providing value for his clients and his profession. [He delivers] great results, expertise, and high integrity." 
"David Jacoby has specifically tailored the strategy toolkit to the energy business. [He] recognizes the stark realities of the economics of the energy business, whereby what might work brilliantly for one industrial manufacturer may have no discernible long term benefit at all for an oil company…Filled with energy industry specific know-how."
"David Jacoby is an industry leader. His depth of knowledge and ability to connect to an audience is truly outstanding."

Infrastructure Investment: The Supply Chain Connection
Underinvestment in transportation infrastructure is due in part to a failure to consider the supply chain benefits of infrastructure investments. Government decision-makers rarely consider the impact of infrastructure investments on supply chains. But they should: Failing to do so will stifle a nation's economic competitiveness.
Please click here to download the article written by David Jacoby, President of Boston Strategies International, for the Council of Supply Chain Management's "Supply Chain Quarterly" journal.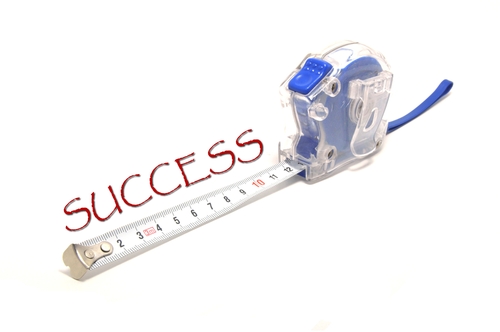 For the National Academy of Science's National Cooperative Highway Research Program (NCHRP), in collaboration with Cambridge Systematics, BSI described the tools and data-management systems that underlie private sector performance-based resource allocation processes in order to guide public sector organizations such as state Departments of Transportation in setting appropriate targets and processes for allocating resources. BSI identified and described the institutional relationships within private sector companies that are needed to support performance-based resource allocation. We then compiled case studies to identify and describe the practices of private-sector transportation and logistics companies that have undertaken performance measurement programs and initiatives.
Click 
here
 to access the report.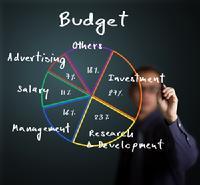 For the National Cooperative Freight Research Program, BSI collaborated with Cambridge Systematics to develop a common framework to evaluating freight investments that allows stakeholders to evaluate the potential benefits of highway, rail, seaport, and intermodal connector projects on an "apples-to-apples" using existing data and analytical tools.
Click 
here
 to access the report.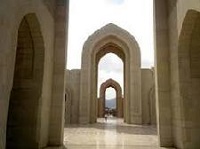 Oman's World-Class Supply Chain Megaproject

Oman could be the new load center for the Middle East, in due time. Its geographical location is tantalizing for shipping lines — no need to traverse the Strait of Hormuz to serve Dubai, Saudi Arabia, and even Iraq. There's just one catch: there need to be adequate deepwater port facilities and intermodal connections to the north, including rail links. Oman is well on its way toward building this infrastructure.
Please click here to download the article.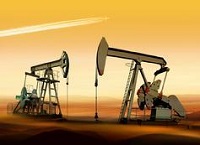 National Manufacturing: Energy Prices
Would a doubling of transportation or inventory carrying costs change your supply chain strategy? Would a 70% increase in the cost of Chinese-sourced products cause you to re-evaluate your sourcing plan? Can your supply chain flex to adjust to major changes in input costs? Energy volatility appears to be here to stay, and companies that are good at managing supply risk will have more cost-effective and resilient supply chains. Boston Strategies International's fourth annual State of Strategic Sourcing study explores these issues and more. Presented to National Manufacturing Week, 2007.
Please click here for the slide presentation excerpt.
Please click here for the study and full text.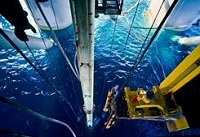 State of Strategic Sourcing Audio Recording "Energy Prices Reshaping the Supply Chain"
David Jacoby, President of Boston Strategies International, presents the impact of energy prices on supply chains, and forecasts the impact on sourcing and supply management for the next 20 years.
32 minutes, 2007.
Please click here for the webcast.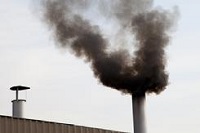 Green Supply Chains by 2020
For nearly 30 years, companies have been doing everything they can to improve efficiency both within and between organizations, which was in large part responsible for the global growth throughout the 1990s and early 2000s. Now the returns are diminishing and the very success that has enabled complex multinational supply chains is under attack for wasting energy and creating pollution. It is time to put the supply chain in the public political agenda by asking governments to front major subsidies and tax incentives to help make supply chains truly green.
Click here for free download.
The Return of PPP. Mediterranean Governments Relying on the Private Sector for the Next Wave of Expansion. 
Public-private partnerships (PPP) had traditionally been justified on a project-specific basis, with only a handful of projects under review at any point in time. The economic crisis has changed that paradigm: heavily-indebted governments worldwide will need the private sector to realize the next wave of capacity expansions. The motivation for PPPs is changing, and this will change the balance of power between port authorities and terminal operators.
Please click here for the article.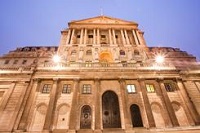 Too Small to Fail: A New Model for Regulatory Oversight
The cost of the bailout is turning out to be much less than expected. In the Middle East, Abu Dhabi bailed out Dubai with $10 billion of equity, and this has not stopped industrial real estate values from plummeting in Dubai. However, while some had predicted a cost of $5-6 trillion or more for the US portion alone, it appears that the worldwide bailout will total less than a trillion dollars. Why did some companies perish while others got rescued? What lessons can we learn? Should we save or subsidize companies like holding companies (like Dubai World), real estate conglomerates, and ocean shipping lines (like COSCO and CMA/CGM) that took on extraordinary amounts of debt?
Click here for free download.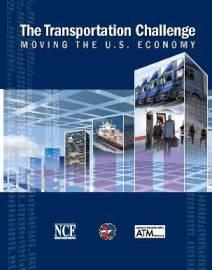 The US Transportation Challenge
Some countries are practically drowning in transportation infrastructure investment while others are under-investing for the future. What is behind the imbalance? This study investigates how the US economy is being slowed down by a lack of investment in transport infrastructure and provides comparative benchmarks with other nations.
Please click here for the report.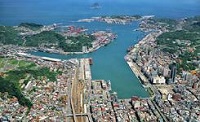 A Framework for Public-Private Partnership Policy Development
Mega-investments are reshaping global supply chain economies. Dubai is investing $300 billion by 2012, and Saudi Arabia an equivalent amount by 2012. Brazil has committed $108 billion by 2023, Shanghai's Yangshan port complex will cost $26 billion, and the Panama Canal upgrade will cost $5 billion or more. The benefits – including economic growth and export competitiveness – are huge. Furthermore, not investing puts nations and multinational transportation providers at a disadvantage relative to those that are capitalizing on the biggest international trade boom of the last thousand years. But private capital is finite, especially given the current financial crisis, and there is no agreed process and no methodology for sharing the costs and benefits of very large transport infrastructure projects between public and private sector interests. The resolution to this issue will have a dramatic impact on national competitiveness and global economic growth.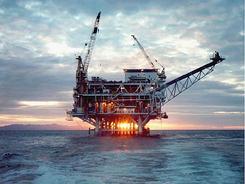 USDOT Guide to Large-Scale Freight Investments
Economic trends paint a worrisome picture for the state of the U.S. freight system. U.S. domestic freight tonnage is predicted to increase by 57 percent between 2000 and 2020, and if trends continue, growth in freight volumes will exceed increases in freight capacity for the foreseeable future, causing congestion throughout the surface transportation system and decreasing the reliability of freight shipment times. As congestion increases and reliability decreases, the transport and supply chain costs will go up, raising prices for U.S. consumers and lowering the competitiveness of U.S. businesses.
Please click here to request this item.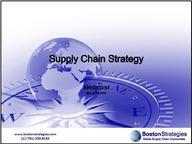 Supply Chain as a Geopolitical Weapon
Bangkok is growing to be a major transport hub for Asia, and new infrastructure projects across Thailand are improving land access. What role will Bangkok play as a transportation hub in Asia? This presentation will explore Thailand as an emerging strategic location, in the context of a more encompassing and provocative theme — can governments use supply chain management as a competitive weapon to accelerate regional growth?
Presented to the 4th Thai Ports Conference, 2007.
Please click here for the slide presentation excerpt.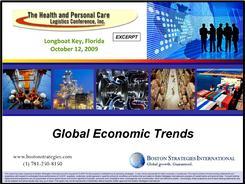 Global Economic Trends
Supply chain activity will rebound as the economy does. Is the bounce back sustainable? What are the scenarios for economic ups and downs over the coming years? What will your supply chain costs be in 2010? This simplified excerpt from Boston Strategies International's keynote presentation to the Health and Personal Care Logistics Conference in Florida answers these questions.
Click here for free download.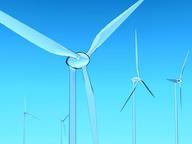 The Crossroads: Global Trade and Technology
For 40 years, a dearth of reliable information constrained companies and consumers from achieving what they knew could be done. But today, information technology is making more data available than we know how to use, and with radio frequency identification we will soon have more data than our computers will be able to process. Concurrently, global trade is exploding and the locus of economic power is shifting. The convergence of these two trends over the coming 30 years will present unprecedented opportunities for trade and commerce. How can you take advantage of this opportunity? This presentation will identify key areas of commercial opportunity presented by these extraordinary trends.
Presented to Beverly Chamber of Commerce, 2006.
Please click here for the slide presentation excerpt.