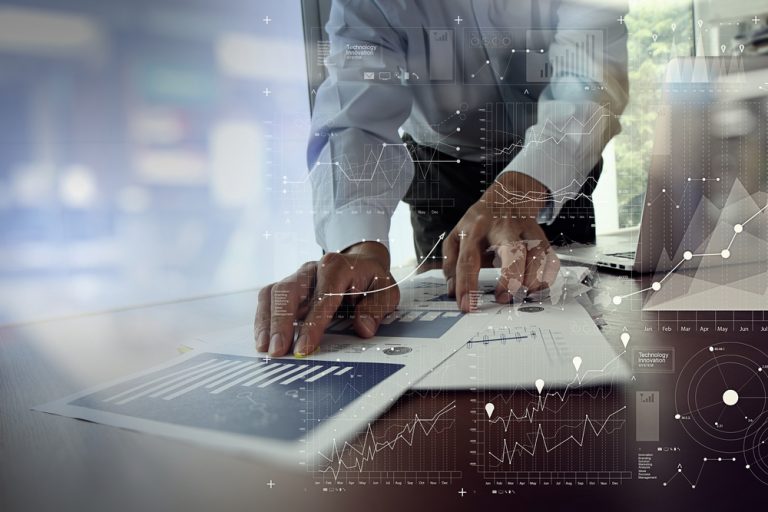 David Steven Jacoby has literally "written the book" on designing value chains to result in delighted customers, marketing flexibility, enhanced innovation, and speed to market. With a combination of analytics and hands-on implementation, David S. Jacoby helps you tap the benefits from a wide range of supply chain improvement techniques
Standardization and simplification of specifications
Transportation Optimization
Consignment and vendor managed inventory
Design for Manufacturability
Electronic data interchange and paperless work flow
Collaborative inventory management
Demand planning (shifting demand and capacity to better match each other)
Customer Knowledge Management
Design for Configurability
Continuous Market Feedback
Concurrent Product Development
Product Life-Cycle Management
Early Supplier and Customer Involvement
VALUE CHAIN STRATEGY PROCESS
External Analysis
Market sizing (segments, size, growth, and outlook)

Market profiling (using our proven 7-point market assessment methodology)
Internal Analysis
Articulation of the current business and marketing strategy

Articulation of the current value addition strategy (especially manufacturing, channel and pricing strategies)

Assessment of resource fit with target markets (customers, organization, operational capabilities)
Formulation of Strategic Options
Development of channel, portfolio, and bundling strategies

Evaluation of bundling, integrating, and 'solutioning' options, as well as alternative pricing levels and structures

Quantitative and financial evaluations of each option (ROI, NPV, etc.)
Implementation Planning
Development of an action plan, with milestones and prerequisites

Recommended metrics, targets, and milestones

Financial projections

Work breakdown structure and action plan
Value Chain Strategy Case Studies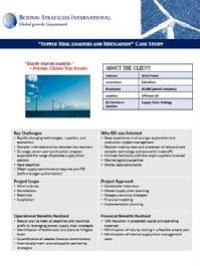 Industry: Wind Power
Key Challenge: Rapidly changing technologies, suppliers and economics.
Why Selected: Deep experience in exploration and production project management
Project Scope: Wind turbines, foundations, electricals, and installation.
Project Approach: Master supply chain planning, category sourcing strategies, financial modeling.
Operational Benefits: Identification of bottlenecks and plans to mitigate them.
Financial Benefits: 13% reduction in projected capital and operating expenses.
Click here to read the full case study.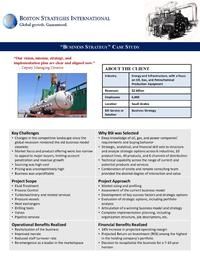 Industry: Pressure vessels and related fabrications
Key Challenge: Seeking higher revenue growth and to avoid commoditization by low-cost suppliers
Why Selected:

 

Experience with the various fabricated structures, quantitative market model, strategy expertise
Project Scope: 35 categories of equipment
Project Approach: Market sizing and forecasts; filtering categories by criteria, optimizing per synergies
Operational Benefits: Improved customer service and internal organizational focus
Financial Benefits: Client settled on a plan to invest and increase sales more than tenfold
Click here to read the full case study.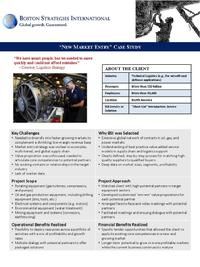 Industry: Technical Logistics
Key Challenge: Diversifying into the oil and gas industry
Why Selected:

 

Contacts and strategic supply chain vision
Project Scope: Engineered equipment, especially rotating equipment
Project Approach: Value proposition critique and review, facilitation of one-on-one meetings
Operational Benefits: Flexibility to deploy resources into new project and partner opportunities
Financial Benefits: 30% higher average profit margin than in the sectors of current activity
Click here to read the full case study.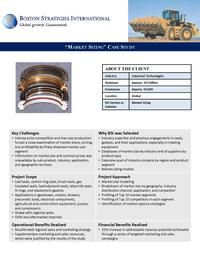 Industry: Industrial Sealing Technologies
Key Challenge: Price competition had forced a strategic review of channels, market share, and pricing
Why Selected:

 

Prior experience in the specific industry segment, and proprietary market model
Project Scope: Specific types of seals and gaskets
Project Approach: Market size modeling, supplier and customer profiling, development of value chain strategies
Operational Benefits: Supported an intensified and more clearly focused marketing and sales initiative
Financial Benefits: Potential 15% increase in revenue based on a redefinition of the addressable market
Click here to read the full case study.

Supply Chain Strategy
Supply chain management should yield far more than cost reduction. It should result in delighted customers, marketing flexibility, and enhanced innovation and speed of doing business across multiple processes. While traditional operations improvement has focused on how to reduce cost without sacrificing service — reducing inventory without sacrificing service levels, reducing fixed cost by planning and scheduling work better without creating backlogs or bottlenecks, and lowering transportation cost through win-lose negotiations with carriers and 3PLs — supply chain leaders have linked their business strategy to supply chain management with dramatic results.

The New Face of Purchasing
The coming decade promises to be a transformative one for the purchasing function. According to a major new study of over 350 global executives, after years of being perceived as a clerical, back-office function, purchasing is set to gain remarkable prominence in the corporate pecking order. Three external and inter-related forces are driving the elevation of purchasing: globalization, cost pressure, and innovation. This white paper identifies four ways in which the procurement function will respond and adapt between now and 2015.

How Will Western Manufacturers Survive?
At the current pace of offshoring, Western manufacturing is arguably headed toward extinction. What should leaders of Western manufacturing companies do? Will your company survive? How should you reposition the core competencies and product range? Should you tap a non-home country national to run the company, or establish multiple headquarters? Where should the headquarters be? How can you recruit people who have the right language, culture, and skills to lead the company into the global future? Boston Strategies International's Fifth Annual State of Supply Chain Management Study is focused on answering these critical questions, © 2008.

Customization: The Information Connection
Gathering, managing, and using customer data at the right time is crucial to moving from a Stage II supply chain company to a Stage III supply chain company. It is easy to say but hard to do. David Jacoby, President of Boston Strategies International, wrote it.