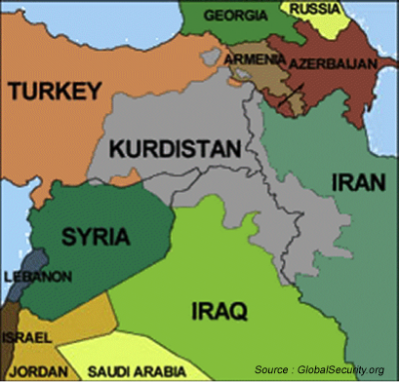 The spotlight on recent events in the Middle East, while understandably focused on ISIS and the coalition battling it, has overshadowed the potential emergence of a Kurdish state, which would dramatically change the energy landscape in Iraq, Turkey, and, by extension, Europe.
Some have observed that ISIS may control oil production. In fact, ISIS's current oil production capacity is only around 25,000-40,000 barrels per day and it would be difficult to foresee that the group would be allowed any future control over any oil production facility.
The more interesting potential outcome of these events is suggested by the image above, in the gray area labeled "Kurdistan," which outlines the potential area of influence or domination by the Kurds. So far, the Kurdish forces have been the most active among the ground troops in the war waged against ISIS. There is no doubt that their quick and intense involvement is linked with their longstanding dream of establishing an independent state, which they have partially achieved through the current Kurdistan government. A Kurdish state with a geographic spread that currently spans four countries would immediately transform the Kurds into a significant regional energy player, not only because of the oil production capacity that the state would have, but also because of its strategic location.
Kurdish desire for the means to control their own economic destiny and the potential benefits to other countries of stabilizing governmental control in the region lend support to the rise of a Kurdish state. The Kurdistan Regional Government plans to reach a production capacity of 1 million barrels per day (bpd) by 2016. This would generate revenues of around $35 billion per year at current oil prices, but with the developments taking place in the region and should the Kurds take control of the Kirkuk Oil field they will have achieved their target much earlier than their forecast. Furthermore this would immediately pave the way to the Kirkuk-Cayhem pipeline, which could potentially transport 1.6 billion barrels per day to energy-hungry Turkey. While the Turkish Government opposes the creation of an independent Kurdistan, a stronger government in the oil-rich region would support Turkey's ambition to become an energy corridor to Europe.
Such prospects create new opportunities, and risks, for energy companies, and their effects will be felt by end-users of gas and oil. Boston Strategies International is helping its clients identify new partners and maximize the value of potential opportunities during this window of opportunity.